FryskWare Fly Blocker
Fly sheet - Anti Fly - With Fly Mask
Fryskware Fly Blocker is the de ultimate fly- and insect repellent blanket with removable neck/ head part and UV-resistant coating protecting skin and fur colour against sunburn and discoloration. The neck part and mask have a satin stripe that protects manes against chafing. The eye recess is made of softmesh, a soft, UV-resistant gauze, protecting the eyes against fly's, insects and sunlight, guaranteeing a good sight at the same time.
Fits perfectly
Baroque horses are graceful and compact, usually with a lush coat and waving manes. Although they are our best friend it is usually very hard to find a perfect fitting horse blanket for their wide front
| | | |
| --- | --- | --- |
| Size | A to B | C to D |
| 185 | 150 cm | ± 185 cm |
| 195 | 158 cm | ± 195 cm |
| 205 | 166 cm | ± 205 cm |
| 215 | 174 cm | ± 215 cm |
How to measure your horse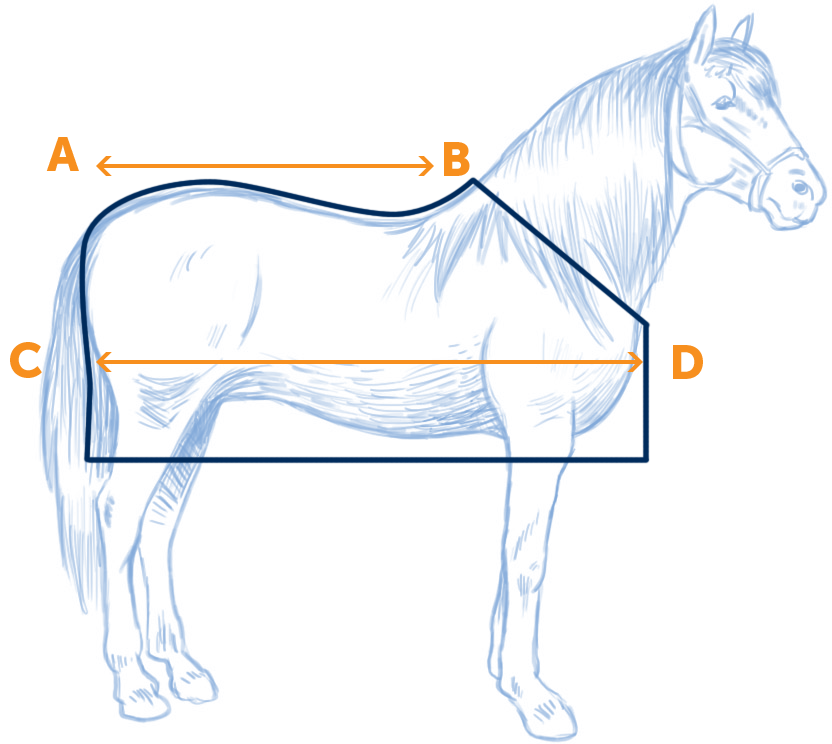 The fit of blanket rug is extremely important to ensure the comfort of your horse and to prevent rubbing and slippage. Horses with the same shoulder height come in a variety of shapes and sizes, it is useful to take certain measurements of your horse.
Using a soft measuring tape, measure from (A) at the centre point of the chest, across the point of the shoulder and to the point (B) at the centre of the tail. When you have the measurement, remove 10cm (4inches) and choose your horse's size from the table.
Bear in mind that every horse is different and that this table is a guide only.
FW45 Superfront®
In close cooperation with owners and carers of Frisian and Baroque horses, Fryskware has developed the FW45 Superfront. It is a solid, fourfold adjustable breast closure in an angle of 45 degrees, guaranteeing a perfect fit. Another huge advantage of this patented system is that it gives the horse enough space to graze. The secret? The cut of the Fryskware blankets in combination with the FW45 Superfront system.
Specifications
Material

UV Protected Nylon

Water-resistant

No

Linning

No

Tail flap

Extra long, extra wide

Leg straps

Elastic and adjustable

Belly straps

X- surcingle

Front flap

Adjustable

Brand

FryskWare

Category

SummerWare
Experience
5 stars based on 1 reviews
Very Nice rug.. He fits my pre perfectly
17-09-2017 07:51