FryskWare Itch Blocker
Eczema rug - Fly Sheet
Fryskware Itch Blocker is the perfectly fitting eczema blanket, a second skin on the Frisian and Baroque horse. With extra wide belly flap and adjustable, elastic straps. Extremely suitable for Frisian and Baroque horses and other horses with sloping horse shoulders.
Fits perfectly
Baroque horses are graceful and compact, usually with a lush coat and waving manes. Although they are our best friend it is usually very hard to find a perfect fitting horse blanket for their wide front
| | | |
| --- | --- | --- |
| Size | A to B | C to D |
| 185 | 150 cm | ± 185 cm |
| 195 | 158 cm | ± 195 cm |
| 205 | 166 cm | ± 205 cm |
| 215 | 174 cm | ± 215 cm |
How to measure your horse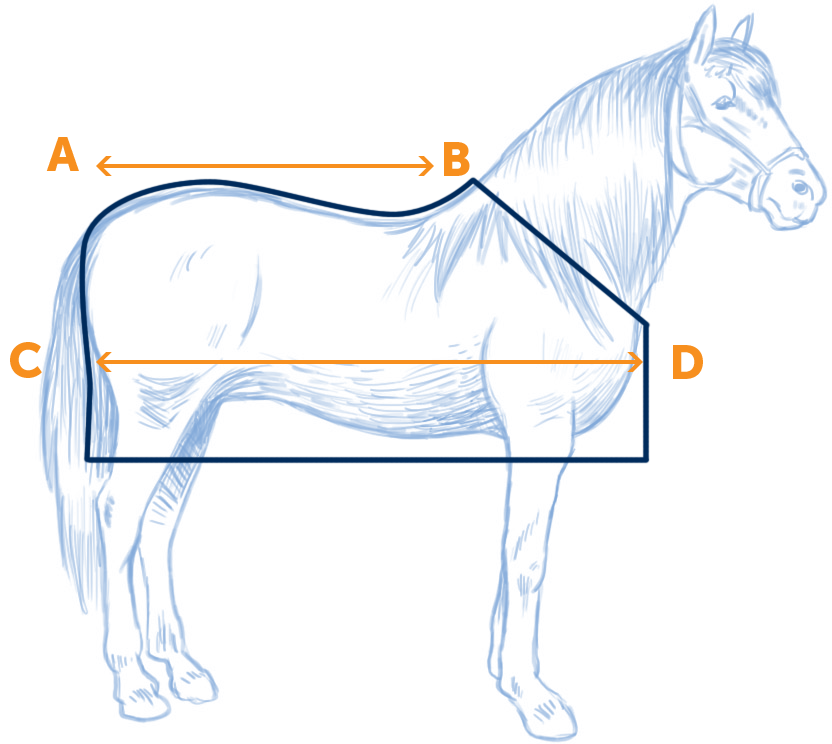 The fit of blanket rug is extremely important to ensure the comfort of your horse and to prevent rubbing and slippage. Horses with the same shoulder height come in a variety of shapes and sizes, it is useful to take certain measurements of your horse.
Using a soft measuring tape, measure from (A) at the centre point of the chest, across the point of the shoulder and to the point (B) at the centre of the tail. When you have the measurement, remove 10cm (4inches) and choose your horse's size from the table.
Bear in mind that every horse is different and that this table is a guide only.
Specifications
Material

UV Protected Stretch

Water-resistant

No

Linning

-

Tail flap

Extra long, extra wide

Leg straps

Elastic and adjustable

Belly straps

Triple adjustable straps

Front flap

No

Brand

FryskWare

Category

SummerWare
Experience
5 stars based on 1 reviews
Wacht met spanning op de officiele Itch Blocker.. Het laatse proefmodel van deze eczeeemdeken paste perfect. Dit merk is echt 'Designed by owners'. Eindelijk een deken die mijn robuuste Fries Bauke optimaal beschermd.
19-08-2017 17:52