FryskWare Fleece Power
Sweat sheet - Stable rug - Transport blanket
This blanket takes extra perspiration quickly and is therefore very popular among sports riders who also use the blanket to keep the muscles of the horse warm after training.
Fryskware Fleece Power is the multifunctional sweat-, stable- and transport blanket with reflecting piping. The horse remains visible in the dark. The luxurious Fryskware Fleece Power has a fixed neck. This multifunctional fleece blanket has the patented FW45 Superfront, suitable for all horses, even Frisian and Baroque horses. The antibacterial lining guarantees a good temperature regulation. The lining is absorbent, thus removes sweat and makes sure the horse doesn't cool off too fast.
Fits perfectly
Baroque horses are graceful and compact, usually with a lush coat and waving manes. Although they are our best friend it is usually very hard to find a perfect fitting horse blanket for their wide front
| | | |
| --- | --- | --- |
| Size | A to B | C to D |
| 185 | 150 cm | ± 185 cm |
| 195 | 158 cm | ± 195 cm |
| 205 | 166 cm | ± 205 cm |
| 215 | 174 cm | ± 215 cm |
How to measure your horse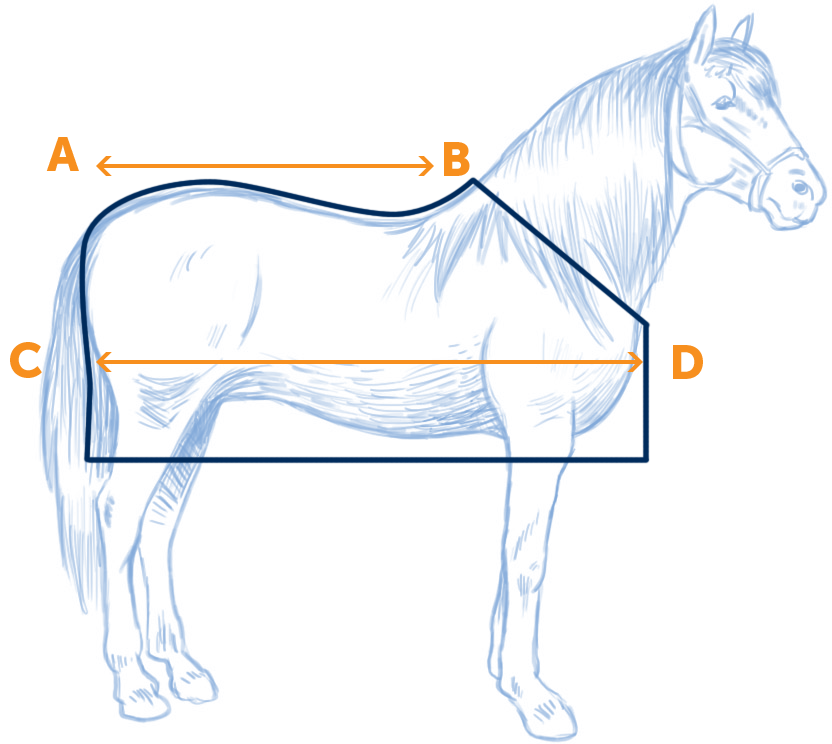 The fit of blanket rug is extremely important to ensure the comfort of your horse and to prevent rubbing and slippage. Horses with the same shoulder height come in a variety of shapes and sizes, it is useful to take certain measurements of your horse.
Using a soft measuring tape, measure from (A) at the centre point of the chest, across the point of the shoulder and to the point (B) at the centre of the tail. When you have the measurement, remove 10cm (4inches) and choose your horse's size from the table.
Bear in mind that every horse is different and that this table is a guide only.
FW45 Superfront®
In close cooperation with owners and carers of Frisian and Baroque horses, Fryskware has developed the FW45 Superfront. It is a solid, fourfold adjustable breast closure in an angle of 45 degrees, guaranteeing a perfect fit. Another huge advantage of this patented system is that it gives the horse enough space to graze. The secret? The cut of the Fryskware blankets in combination with the FW45 Superfront system.
Specifications
Material

Fleece (heavy 280gr)

Water-resistant

No

Linning

Antibacterial and temperature-regulating lining with the 'Stay warm, stay dry, stay cool' effect

Tail flap

Extra long, extra wide

Leg straps

Elastic and adjustable

Belly straps

X- surcingle

Front flap

Adjustable

Brand

FryskWare

Category

SummerWare
Experience
4.5 stars based on 2 reviews
Een FryskWare® Zweetdeken Fleece Power aangekocht voor mijn Friese hengst.
Hartelijk dank voor de snelle service, deken is van super kwaliteit en past perfect (wat niet gemakkelijk is met zijn brede nek en borstkast...)
23-10-2020 10:19
Geweldige deken!
22-08-2017 20:43