FryskWare
PURA

Turnout COMBO-DUO (Neck + Liner)
Winter blanket - Rain blanket - All season blanket
Fits perfectly
Baroque horses are graceful and compact, usually with a lush coat and waving manes. Although they are our best friend it is usually very hard to find a perfect fitting horse blanket for their wide front
| | | |
| --- | --- | --- |
| Size | A to B | C to D |
| 185 | 150 cm | ± 185 cm |
| 195 | 158 cm | ± 195 cm |
| 205 | 166 cm | ± 205 cm |
| 215 | 174 cm | ± 215 cm |
How to measure your horse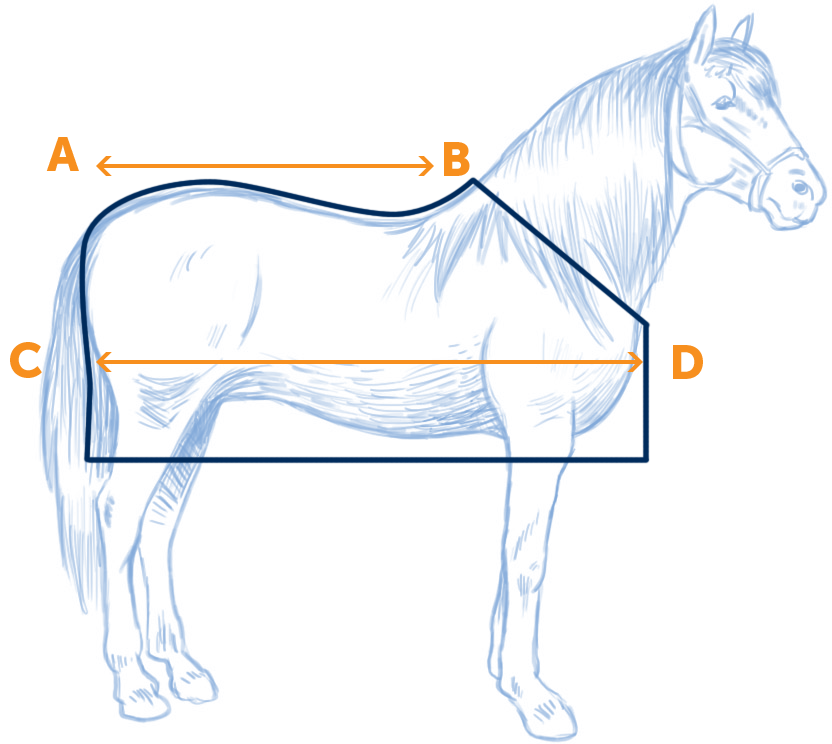 The fit of blanket rug is extremely important to ensure the comfort of your horse and to prevent rubbing and slippage. Horses with the same shoulder height come in a variety of shapes and sizes, it is useful to take certain measurements of your horse.
Using a soft measuring tape, measure from (A) at the centre point of the chest, across the point of the shoulder and to the point (B) at the centre of the tail. When you have the measurement, remove 10cm (4inches) and choose your horse's size from the table.
Bear in mind that every horse is different and that this table is a guide only.
High-quality layers
Given the mission of FryskWare (all horses outside as much as possible) the outdoor horse blankets are the perfect mix of technical innovation with the specific aspects of the Friesian and Baroque horse. The entire assortment horse blankets of FryskWare focuses on fit, freedom of movement, protection and comfort.
UV Protection
In order to cherish the fur colour of the horse (black remains black) and to protect the skin against harmful UV-rays the outside of the horse blanket has a UV protective coating. Main advantage: sunbeams cause less warmth, keeping the body temperature of horses in balance.
Teflon Coating
The outside of the FryskWare outdoor blankets has a strong TEFLON, waterproof coating. Rain drops automatically slide down the blanket. In addition the blanket resists the most heaviest rain showers without harming the breathability of the blanket. Teflon makes the blanket dirt repellent and dust resistant. Mud and/or sand will automatically slide down the blanket when the horse enjoys a mud bath.
2100 Denier Ballistic Nylon
FryskWare blankets are made of cast-iron and durable 2100 Denier nylon making it demolition proof and extremely safe for the horse. The outside is strengthened with fine Ripstop gauze fabric, extremely strong. The weave protects the horse against sharp objects and guarantees a possible opening won't tear.
BREATHABLE LINING IN LIGHTWEIGHT POLYFILL/POLYESTER
FryskWare outdoor blankets are available exclusive of lining (0-gram) and inclusive of lightweight lining (100 and 200 gram). Lining protects the horse at all times against cold, frost, wind and draught. The temperature schedule varies from 5-15 Celsius (0 gram), around the freezing point (100 gram) and frost (200 gram). The lining is ultralight and insulates optimally. In addition, the thermal lining regulates the body heat of the horse.
THERMAL LINING
Thermal lining retains heat and avoids heat loss while excessive moisture can escape.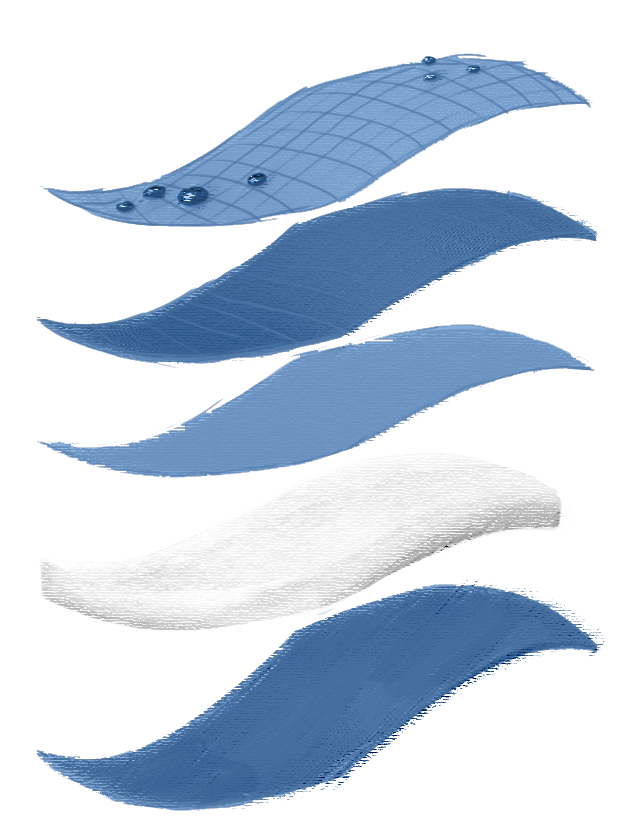 FW45 Superfront®
In close cooperation with owners and carers of Frisian and Baroque horses, Fryskware has developed the FW45 Superfront. It is a solid, fourfold adjustable breast closure in an angle of 45 degrees, guaranteeing a perfect fit. Another huge advantage of this patented system is that it gives the horse enough space to graze. The secret? The cut of the Fryskware blankets in combination with the FW45 Superfront system.
Specifications
Material

Nylon Ripstop (2100Denier)

Water-resistant

Gegarandeerd waterdicht (4000 gr/mm)

Linning

Antibacterial and temperature-regulating lining with the 'Stay warm, stay dry, stay cool' effect

Tail flap

Extra long, extra wide

Leg straps

Elastic and adjustable

Belly straps

X- surcingle

Front flap

Adjustable

Brand

FryskWare

Category

Winter & Rain Ware

 

SeasonWare